Downs View Sports
Guide to Racket Restringing
A basic guide to racket restringing
It is not our intention here to provide a definitive or comprehensive guide but to offer the basic information you may need to assist you when choosing from the various services and options we offer. For a full guide to restringing then a quick internet search will soon provide a mass of reading material!
Important String Information
Natural gut strings are literally made from animal gut. While these offer great performance, they tend to require great care and suffer from relatively poor durability and are not recommended for the vast majority of club players.
Synthetic gut strings are typically made of nylon or polyester. They vary from solid monofilaments which offer great durability (but less playability) to complex multifilaments (constructed from many synthetic fibres twisted together to mimic natural gut fibre). Multifilaments tend to play better, being softer and more able to "bite" on the ball but tend to be less durable than monofilaments.
Strings are often available in different gauges (or thicknesses). In simple terms, thicker strings tend to be less playable but more durable. The more serious the player, the more benefit will be obtained from the feel and comfort of a thinner string.
String tension is frequently overlooked but is crucial to the performance of the racket. In general, a slightly lower tension will provide greater power while a higher tension will offer more control. Most modern rackets provide a tension guide on the frame but typical mid tensions would be:
Badminton: 18-24lbs
Squash: 24-30lbs
Tennis: 50-65lbs
We rarely string outside these recommended tensions and would advise that you choose an appropriate tension within these ranges.
String Types and Constructions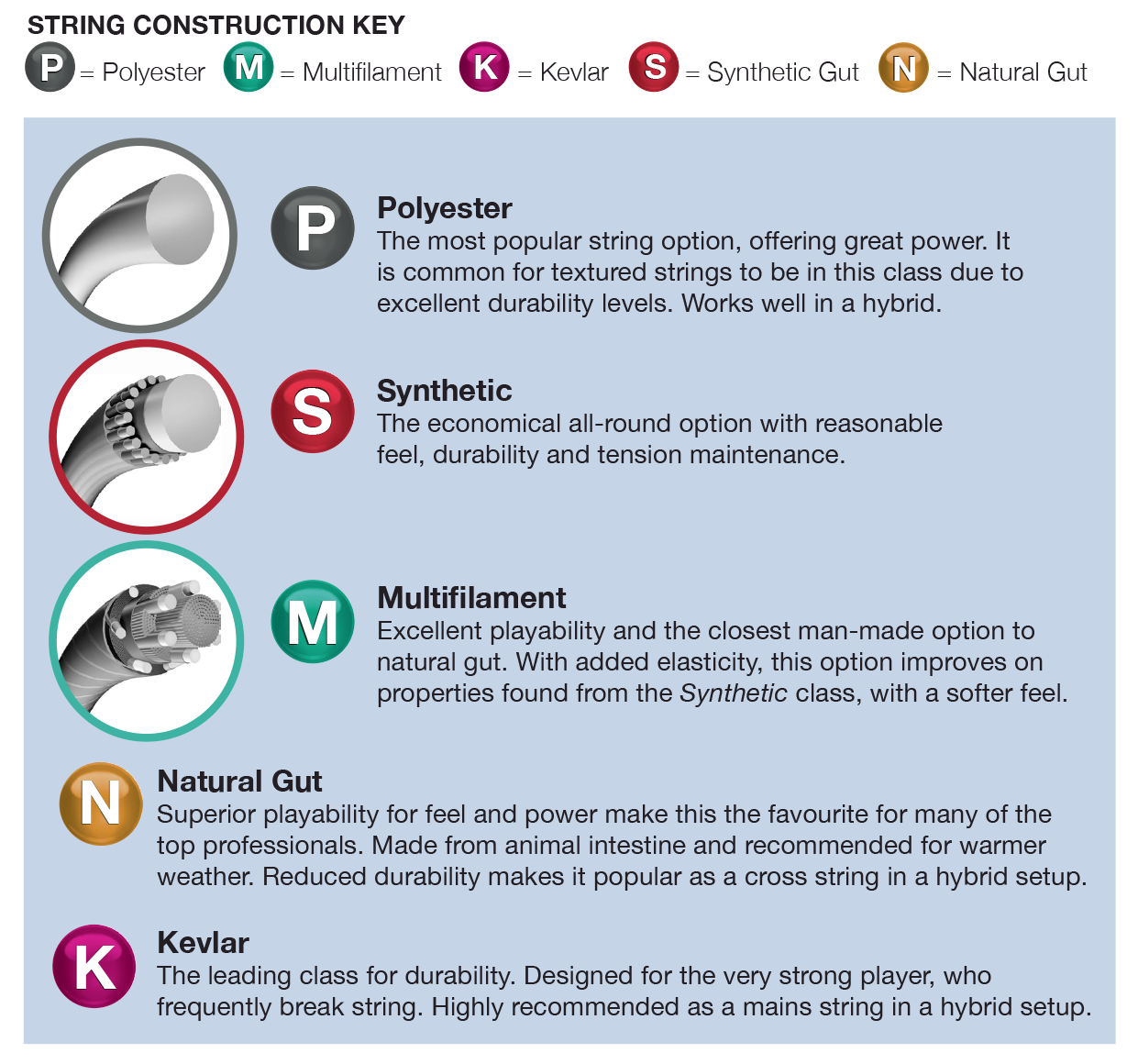 Steve has restrung my squash rackets a number of times now. He does a great job, and they're always ready in good time – often quicker than first indicated. I certainly wouldn't hesitate to recommend him to anyone.
I am a regular club squash player, who from time to time requires the re-stringing of a racket. I've known Steve Holliday since school days. So naturally I've been using him for this service for many years. His service is quick and the quality of the restring is first rate. I always recommend him to friends.
39 Holland Street
Hanover, Brighton
East Sussex
BN2 9WB